Frights and excitement collide this weekend at star-packed fan convention…
---
Update 5/10/21 -Hate to be the bearer of bad news, but the film Richard Dreyfuss is currently working on is going longer than expected and has to cancel his Las Vegas appearance.
Grab your hockey mask, bite down on some garlic and fill your bottle with holy water. The official Days of the Dead convention is coming to downtown's Plaza Hotel May 14th through the 16th. And if you're into horror films like I am, you're sure to have a chilling, thrilling good time.
This slideshow requires JavaScript.
The three day spook fest will be packed with stars, both big names and cult favorites. Perhaps the best-known celeb will be actor Richard Dreyfuss, who rose to fame in Steven Spielberg's JAWS. The two followed that blockbuster with their landmark sci-fi classic CLOSE ENCOUNTERS OF THE THIRD KIND.
This slideshow requires JavaScript.
Dreyfuss will be on hand for photo ops and autographs, so bring your memorabilia and a whole lotta cash (star signatures aren't cheap). Also from JAWS will be Susan Backlinie, who portrayed the ill-fated "Chrissie". Backlinie's character opened the film with one of the most famous scenes in movie history…a horrifying sequence that still makes people think twice about swimming in the ocean after dark.
This slideshow requires JavaScript.
While we're on the subject of Steven Spielberg, there will be a reunion of cast members from ET – The Extraterrestrial. Actors Dee Wallace, Robert Macnaughton and Henry Thomas are all slated to appear. Unfortunately, Drew Barrymore ("Gertie") will not be among them. As for Dee Wallace, she also appeared in the cult horror classic The Howling, directed by Joe Dante (Gremlins, Eerie Indiana, Innerspace).
This slideshow requires JavaScript.
Are you a fan of the Halloween and Friday the 13th franchises? Then you're in bloody-good luck, as actors from both series will be appearing next weekend. Singer/actors Alice Cooper (John Carpenter's PRINCE OF DARKNESS, JASON LIVES) and Slipknot's Corey Taylor (FEAR CLINIC, SHARKNADO 4) are on the roster as well.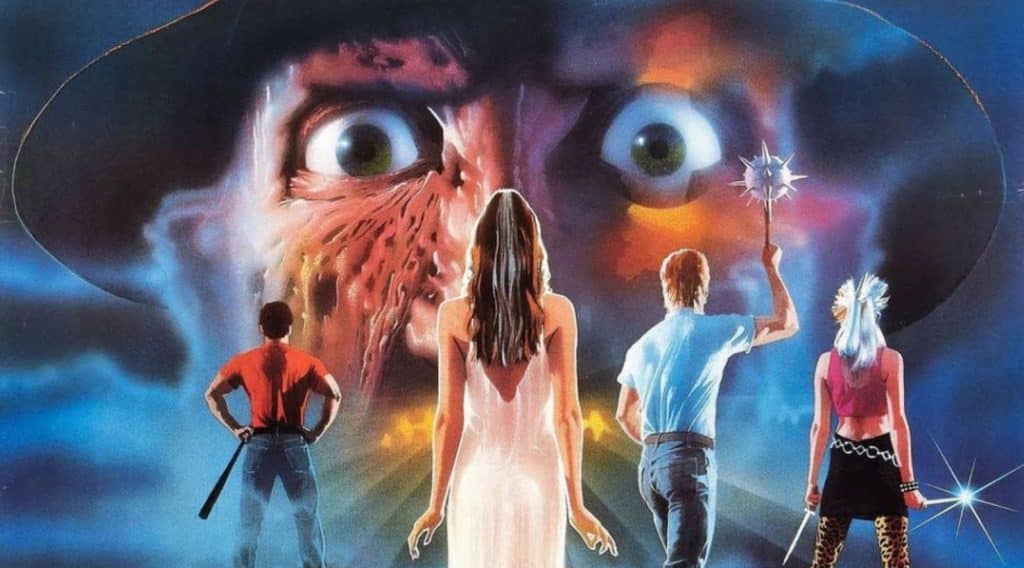 Another big reunion involves the unforgettable "Dream Warriors" team from A Nightmare on Elm Street Pt. 3. Six of the original cast will be sharing memories of the shoot, posing for photos and answering questions. Freddy Kreuger's arch-nemesis Heather Langenkamp, who appeared in three of the films, was scheduled but had to cancel. 
Robert Englund and Lisa Wilcox in Elm St 4: The Dream Master
You may remember that Lisa Wilcox, the star of Elm Streets 4 and 5, resides in Las Vegas and is manager of The 35 Cinema. The retro movie house is currently closed while expanding into a larger location (see below). Ms. Wilcox will be meeting fans separately from Days of the Dead at Cineloggia, a unique museum for movie props. Be there between 5pm and 8pm on Saturday May 15th to chat with "Alice", the only character to survive Freddy Kreuger twice.
This slideshow requires JavaScript.
Lisa Wilcox isn't the only Dream Master alumnus to have feet on both Las Vegas Boulevard and Elm Street. Cineloggia proprietor Nick Benson created the groundbreaking make-up and special effects for Elm Street 4: The Dream Master. And….he shares a birthday with "twinsie" Lisa Wilcox! Cineloggia is located at 900 Karen Ave. Suite D214 in the historic Commercial Center Plaza off Sahara Avenue. 
Nick Benson's filmography is vast and varied…
You might recognize Commercial Center as the home of  The Vegas Room Supper Club, The Nevada Room Piano Bar/Bistro, The Sci-Fi Center of Las Vegas. and Hellbound Horror Collectibles. It's also the future location of a bigger, better The 35 Cinema…six times the space, three screens, free parking and all ages welcome to appropriate titles.
Classic and cult movies will be presented using pristine vintage film reels and true analog projectors, as they were originally meant to be seen. Look for The 35 Cinema to reopen in its new home sometime in early July.
The visionaries of Commercial Center include (left to right) Bobby Watson and Tom Michel (The Vegas Room/The Nevada Room), Shane Bingham and John Lohmann (The 35 Cinema) Nick and Marla Benson (Cineloggia) and actress Lisa Wilcox (also of The 35 Cinema)
Myself with Lisa Wilcox
Along with Cineloggia's meet-and-greet for Ms. Wilcox, there will be official Days of the Dead festivities at downtown's The Nerd. The sci-fi/superhero bar hangout inside Neonopolis is set to host a nighttime launch party on Friday the 14th at 10pm. Click here for the latest events schedule from the official Days of the Dead site. 
This slideshow requires JavaScript.
Days of the Dead host hotel The Plaza is rich with its own cinematic history. Casino's famous dinner scene between Robert DeNiro and Sharon Stone took place in what is now Oscar's Steakhouse. Sci-fi and fantasy films Cool World with Brad Pitt, Back to the Future II and Honey I Blew Up The Kid featured the casino resort. The 1994 version of Stephen King's THE STAND was set within its iconic tower, where devil's spawn Randall Flagg took up residence in the penthouse. 
This slideshow requires JavaScript.
It's great to have conventions back in town, and Days of the Dead is sure to be a big success. VIP Packages are already sold out, as are discounted hotel rates for attendees, but you can still save money by ordering advance full-weekend passes. Members of the military are free with proper ID. 
If you're a high-level enthusiast, why not consider becoming a volunteer? I've worked several fan conventions and been assigned to some incredible celebrities. Plus, your entry is free. You can do so by clicking here. 
This slideshow requires JavaScript.
Days of the Dead will take place May 14-16 at Plaza Hotel at the corner of Main Street and Fremont in downtown Las Vegas. To make hotel reservations for The Plaza, click here. For tickets to Days of the Dead fan convention, click here. A COVID-19 protocol/safety page for the event is here. 
This slideshow requires JavaScript.
Photos: Sam Novak, Days of the Dead/Cineloggia/Plaza Hotel/ via Facebook. Banner photo: Zach Zeller