….and you can make it possible through a perks-packed campaign…
If you only visit Las Vegas from time to time, you might be surprised to learn that Sin City has a lot in common with Hollywood. Not only have dozens of blockbuster movies and televisions shows been filmed here, but there is a vibrant community of filmmakers and actors. Production studios benefit from our gorgeous cinematic locations, wealth of acting talent and the tech industries that call our valley "home".
In addition, movie-going itself is a staple activity of our residents and visitors. Nearly every off-Strip hotel casino has a multiplex theater off the gambling floor. Our six-screen drive-in was one of only a few in the nation that were able to operate throughout last year's closures. And during any normal year, Las Vegas attracts thousands of fans, celebrities and Hollywood heavy-hitters for conventions like Star Trek, Days of the Dead and CinemaCon (formerly known as ShoWest). 
The most recent only-in-Vegas experience came when The 35 Cinema opened this February in downtown Las Vegas. I told you all about the super-cool retro cinema here, and profiled its owner/creator John Lohmann in this piece. The response to his venture was so overwhelming that Mr. Lohmann decided to expand it into a three-screen multi-plex, keeping the concept intact while adding even more unique elements. 
The new location for The 35 Cinema wil be the sprawling, history-rich Commercial Center District World Village (or Commercial Center for short). It's just a stone's throw from Sahara Hotel and Westgate Las Vegas on East Sahara Avenue. Regular readers will recognize Commercial Center as the trendy location for businesses like a reborn Vickie's Diner, ever-popular Lotus of Siam, The Vegas Room, The Nevada Room, Cineloggia Movie Artifact Museum, Hellbound Horror Collectibles and the wonderful Sci Fi Center of Las Vegas. 
Relocating to Commercial Center is a no-brainer for The 35 Cinema. As a hotbed for fan-centric activities, this unique plaza will allow moviegoers to visit other movie-related businesses all in one visit. An expanded footprint for the Cinema makes it possible to run three movies at once (the former location was a single-screener) while providing hundreds of free parking spaces, on-property security, expanded hours, all-ages admission (not possible under their previous leasing agreement at Neonopolis), bar service, and lots more.
I so believe in and support this venture that I helped Lohmann to draft crowd-funding proposals to bring a bigger, better The 35 Cinema to Las Vegas. Here is the link to the IndieGogo campaign, which you can see in its entirety below:
---
The 35 Cinema: Where FILM comes BACK to the Cinema!
There's never been a better time to rediscover movie-going. And Las Vegas has the ultimate way to experience the magic at The 35 Cinema….movies the way they were meant to be seen.
The 35 Cinema is the only multiplex theater of its kind in the world. What makes The 35 Cinema so special? It's a retro movie house that presents timeless classics and cult favorites the way they were originally made and shown…with genuine 35 millimeter film and projectors.  
There are only a handful of theaters running 35mm film in the US.  But what make The 35 Cinema stand out above all the others is that it's the only 100% revival theater in the world running exclusively on 100% film!  We will not be playing anything after the year 2000!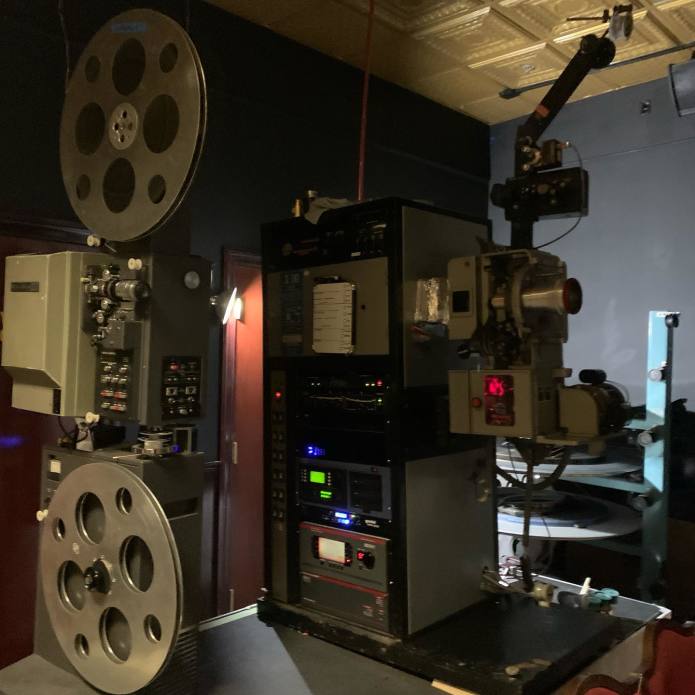 Today's modern megaplexes utilize a totally digital format, essentially transforming their screens into over-sized televisions. Computers and electronic devices generate sound and imagery that are often called "hyper-realistic". While the goal of this technology is a perfect presentation, what's lacking is charm, warmth, and the intimacy of an old-time cinema.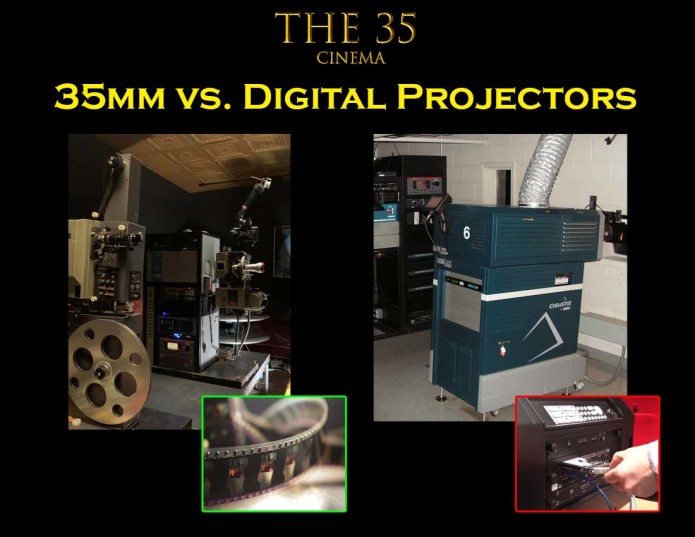 The 35 Cinema restores the original format of movies, once thought to be lost forever. Let the sounds and flickering of 35mm projectors whisk you away on an unforgettable adventure. Classics like The Wizard of Oz, Singing In The Rain, Alien, 2001: A Space Odyssey, The Shining, Star Wars, Tron, A Nightmare On Elm Street…all of them were created using movie film, and nothing can replace the thrill of watching them that way.
The above video is not ours, but gives you an idea of the workings of a 35mm projector.
At The 35 Cinema, our meticulously-restored systems are a part of the show. Projectors are located within view of the auditorium, not hidden out of sight. Arrive early to watch our projectionist thread your movie through complex gears and pulleys, into a powerful lamp housing and onto massive take-up reels. Grab an ice-cold soft drink and a bag of the best popcorn in town, then settle in for vintage coming-attraction trailers before the landmark main feature.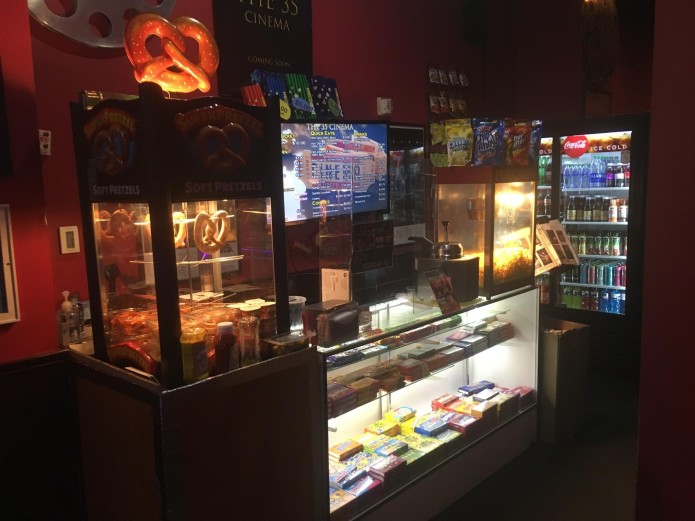 Along with being the coolest retro theater in the world, The 35 Cinema is the ultimate gathering spot for cine-philes of all ages. We offer an ever-expanding schedule of fan events, celebrity appearances, themed festivals and all-day marathons. Rare props, movie memorabilia, and dozens of autographed photos take you back to when you first saw your favorites on the silver screen.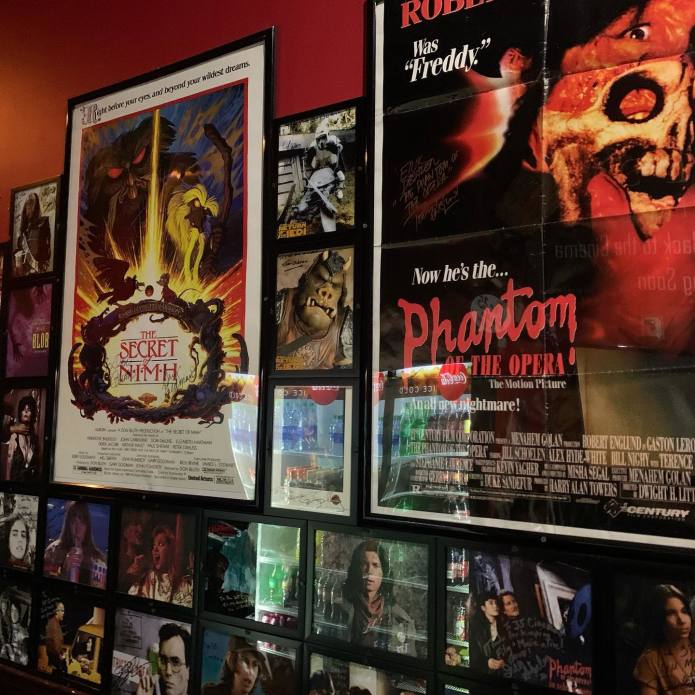 One of the many events we'll be hosting will be our "Breakfast with the Toons" every Saturday and Sunday morning. You'll be served a continental breakfast and get to watch two to three cartoon shorts before an animated feature! The fun part about it is it'll be just like when you were a kid watching cartoons Saturday morning…you wont know what will be playing until it starts!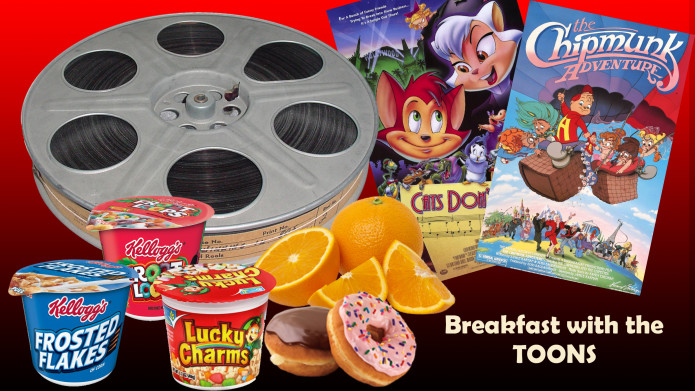 The 35 Cinema has so much to offer so…don't miss this opportunity to be a part of the greatest cinematic experience of all time. The 35 Cinema – Movies The Way They Were Meant To Be Seen.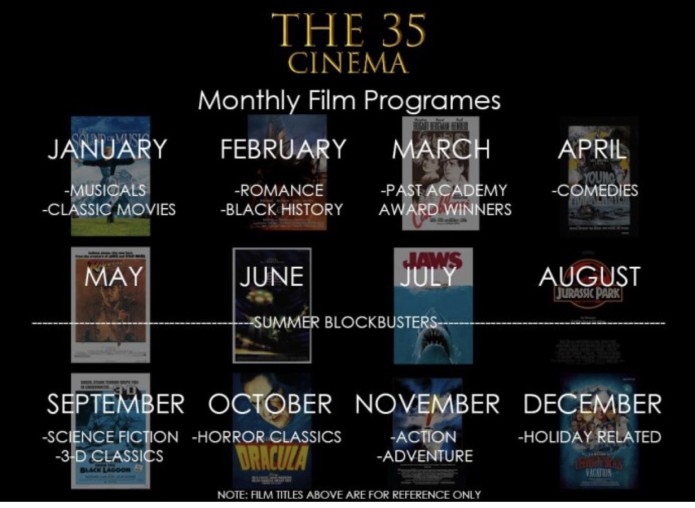 Here is a rough draft of the floor plan for our new location in "The Commercial Center" of Las Vegas!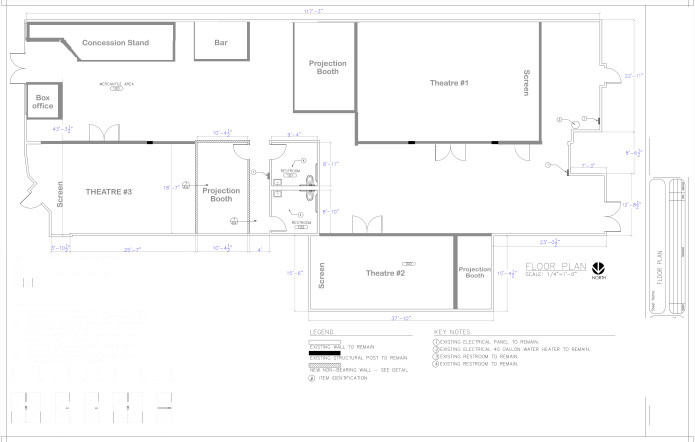 As you can see above, the floor plan for our new location includes a large concession stand, liquor bar and three cinemas. We also have areas of the theater that will be able to host VIP celebrity guests, original movie props and so much more.
Media on "The 35 Cinema"
Here are just a few of the news broadcasts "The 35 Cinema" was featured on at our first location!
What the money will be used for 
We already have some of the 35mm equipment in our possession, but we need more for additional auditoriums. We also require funding to secure our new Las Vegas location, construction, additional concession equipment and more.
As a contributor you can take advantage of our many Rewards: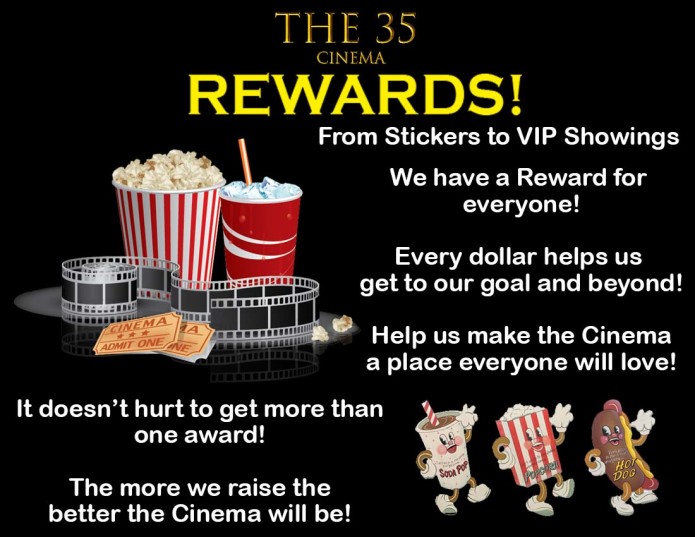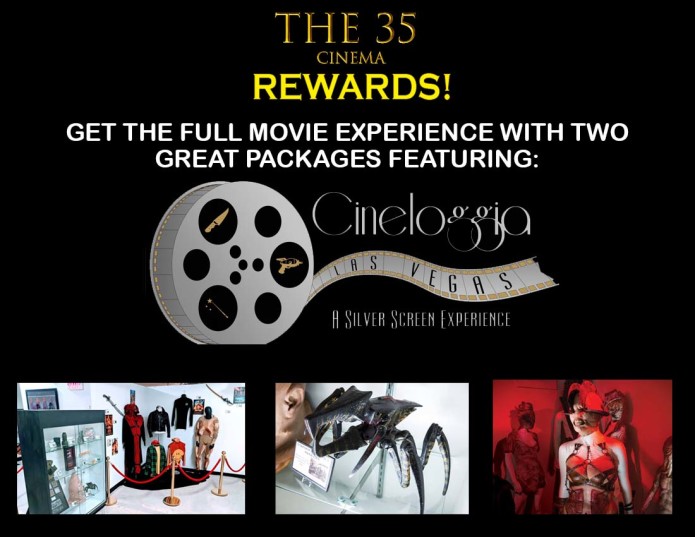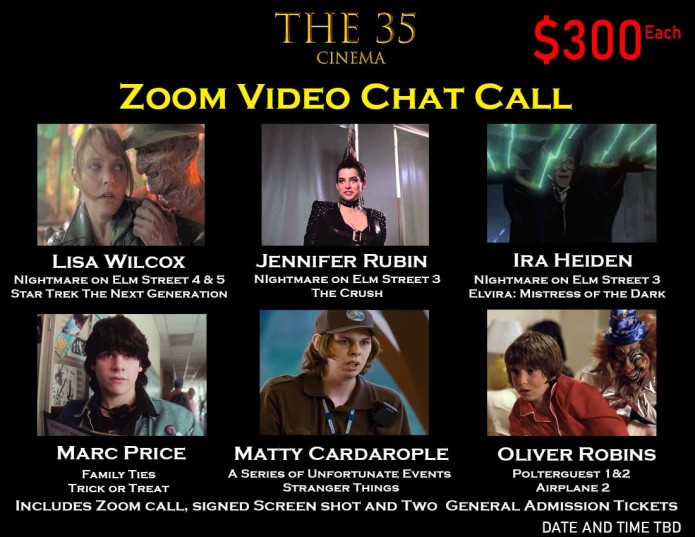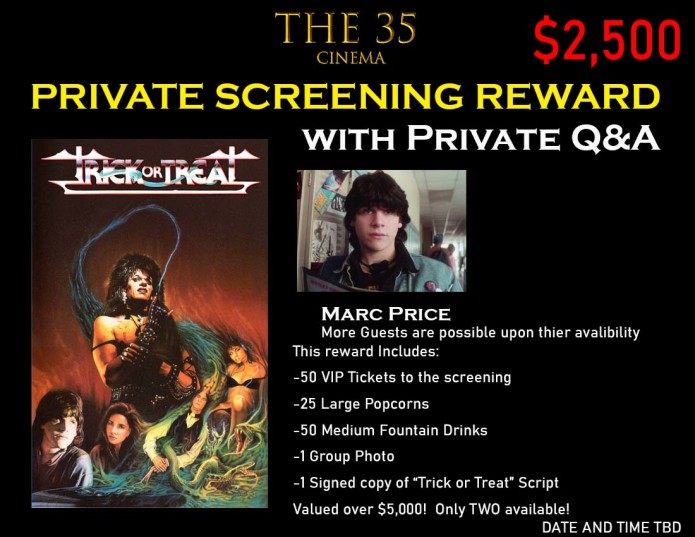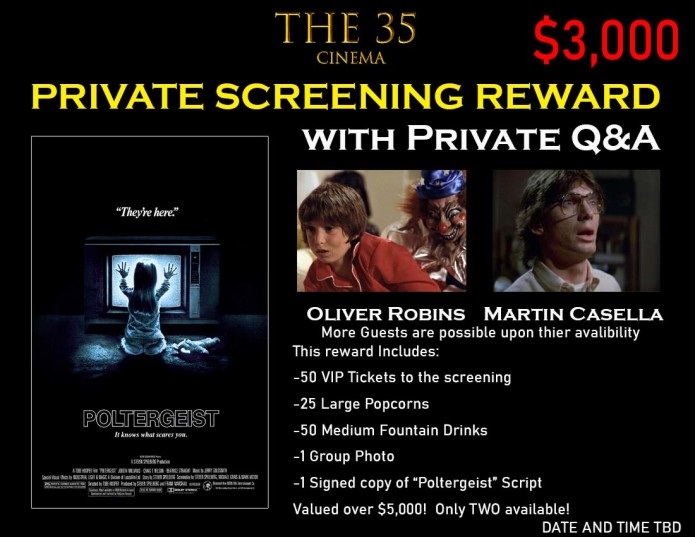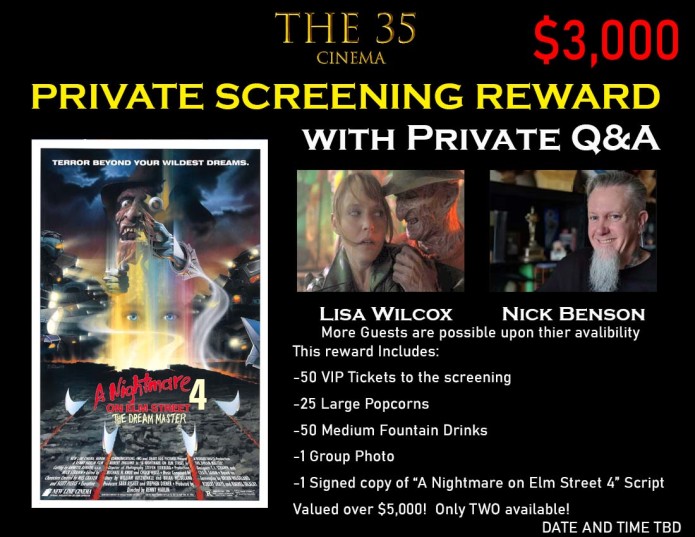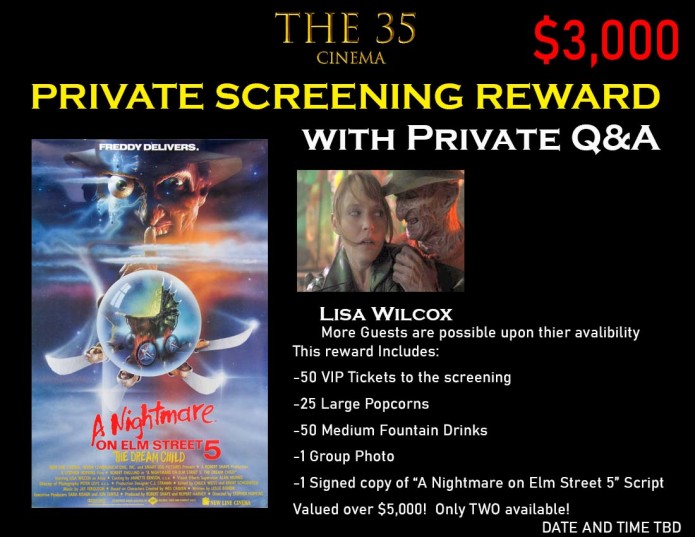 Risks & Challenges
And what happens if The 35 Cinema doesn't meet its goal? If we don't succeed — It would be a sad day for 35mm, cinemas and Las Vegas as a whole. We're relocating into a space 6 times the size of our first location and we'll finally be family friendly (our first location was 21 and over due to the venue we were in.)
Our audience is growing and people are finding the magic of 35mm movies is still alive and we would love to keep it that way. You have to try our popcorn as well… It has been called "The Best Popcorn In Town!"
If we succeed with your help, we'll immediately proceed with showing movies the way they were meant to be seen…on film and on a silver screen! We are The 35 Cinema…together!
To be a backer of The 35 Cinema and reap rewards like the opportunity to meet movie stars, hold private screenings and much more, click here.